my parents travel to china then angels go sgbuloh grandma's house, royee stays with me n maid. can't make it to xoxo angels, coz my mum brought them to bkt31 in the evening, convenient for laogong to pick angels up. when reached banting home, royee said 'mummy, only 1 child came back, gal gal don't have' he sounded disappointed :S
barney salute!!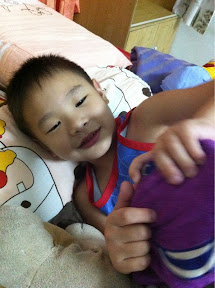 'mummy, why only 2 persons in this room? I want many ppl in the room'
'mummy, why I can't go there for day trip? night time asked papa to send me back here ma'
he started feeling lonely when looking at the sis mattresses :(
my boy. last night we sang together, n recorded our singing :p
my mum told me this..
angel: gogo is not going, then we have mummy, gal gal, don't have papa lo? then how to play happy family?
my mum: ask your gong gong to be papa la
angel: gogo is papa la!
---
Eva: (whispering) waipo, why we have to go sgbuloh n stay there?
mummy: waipo go china ma, sister dont understand our language, cannot take care 3 of u. somemore u all can stay with gong gong n mak mak ma, they miss u all so much.
Eva: then go there for how many days?
mummy: 8 days. 4 days sgbuloh, 2 days with mummy, then 4 days go sgbuloh again, then wai po come back lo!
Eva n angel: ooo
then quietly sitting on the sofa. thinking? :p
my Digo told me this..
Digo: u all have to go to mak mak's house when wai gong wai po go to china
angel: why we can't stay here with sister? I won't be afraid de, I have Godfather protects me ma!
my Kaima told me this..
your children didn't request for the toys. but they non stop touching n admiring the nice toys. when I said 'this is very expansive' your children said 'we see only' your children are very good manner, n didn't let adults embarrass in the public.
hmmm sometime I wondered, they choose to go there, or they choose to love mummy n understand adults arrangement. being cooperative obediently, is a way to show love to grandpa grandma papa n mama :) I give thank to my understanding bbb :*