ya, 11.11.2010 today we gonna collect our iphone4. today am in the mood to go out shopping, am having rm250 parkson voucher, think to buy toys for children, my cloths n panties. enough? :p but don't think I will go out today, need to clear some work before tomolo leave. just got sis SMS 'I want to take leave for tomolo fasting' :p
early morning, when alarm rang, angel saw me moving, then 'l called u n called u why u don't want to answer me? I called n called waawawa :~~~' called mummy for what? 'I want u to switch on the aircond ma, called n called don't want to
answer!' u come near to mummy n touch mummy ma, mummy was so tired, didnt hear u ma 'I shout loud loud already ma!!!' I hugged her n comfort her. finally she smiled. hmmm not easy to handle girlie miss - like a queen!
mum bought these blocks for bbb. last nite royee happily plating alone.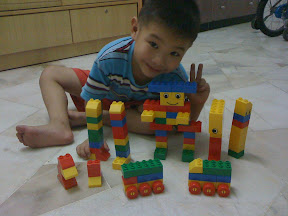 cute jugak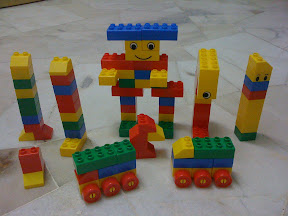 with his new haircut
this morning, I gave this to angels. wahhhh Eva crying, I don't want this!! I want the saloon set, already promised to buy saloon set ma, why bought this? hmm them angel ran to my mama room, 'waipo, why u bought 1 only, now eva crying ooo' then, pula 3 of them don't want to take bath n play n fight with the blocks :(
I told them, waipo bought u all this toy, did u go to waipo n thank her? did u share the toys n play together? complain this n that, didn't appreciate waipo's gift, is this right? jesus can distribute 5 biscuits to 7000 ppl, how about u? fighting among 3 siblings? in your class, any other children name thea roxxx? no right? coz only 3 siblings ma.
lecture n lecture, today am late again to work :S